Post by TurkwithStyle on Aug 20, 2009 22:05:16 GMT -5
Species:
Clefairy
Game of Origin:
Pokémon Red and Blue.
Type:
Lightweight
Techniques and Abilities:
Pound - Pounds the foe with forelegs or tail.
Growl - Growls cutely to reduce the foe's ATTACK.
Encore - Makes the foe repeat its last move over 2 to 6 turns.
Sing - A soothing song lulls the foe into a deep slumber.
Doubleslap - Repeatedly slaps the foe 2 to 5 times.
Defense Curl - Curls up to conceal weakpoints and raise DEFENSE.
Follow Me - Draws attention to make foes attack only the user.
Minimize - Minimize the user's size to raise evasiveness.
Wake-up Slap - Power doubles if foes is asleep, cures sleep status.
Cosmic Power - Raises DEFENSE and SP. DEF with a mystic power.
Lucky Chant - Foe cannot
have critical hits
use smash attacks for 5 turns.
Metronome - Waggles a finger to use any POKéMON move at random.
Gravity - Disables moves that fly or levitate in 5 turns.
Moonlight - Restores HP. The amount varies with the weather.
Light Screen - Creates a wall of light that lowers SP. ATK damage.
Meteor Mash - Fires a meteor-like punch. May raise ATTACK.
Healing Wish - If user faints, recovers HP and removes status effects of next Pokémon.
Focus Punch - A powerful loyalty attack. The user flinches if hit.
Water Pulse - Attacks with ultrasonic waves. May confuse the foe.
Calm Mind - Raises SP. ATK and SP. DEF by focusing the mind.
Toxic - Poisons the foe with an intensifying toxin.
Hidden Power - The effectiveness varies with the user.
Sunny Day - Boosts the power of FIRE- type moves for 5 turns.
Ice Beam - Blasts the foe with an icy beam that may freeze it.
Blizzard - Hits the foe with an icy storm that may freeze it.
Protect - Evades attack, but may fail if used in succession.
Rain Dance - Boosts the power of WATER- type moves for 5 turns.
Safeguard - A mystical force prevents all status problems.
Frustration - A move that is stronger if the TRAINER is disliked. (Trainer does not apply to wild Clefairy.)
Solarbeam - Absorbs light in one turn, then attacks next turn.
Iron Tail - Attacks with a rock-hard tail. May lower DEFENSE.
Thunderbolt - A strong electrical attack that may paralyze the foe.
Thunder - A lightning attack that may cause paralysis.
Return - An attack that increases in power with friendship.
Dig - Digs underground the first turn and strikes the next turn.
Psychic - A strong psychic attack that may lower SP. DEF.
Shadow Ball - Hurls a black blob that may lower the foe's SP. DEF.
Brick Break - Destroys barries such as REFLECT and causes damage.
Double Team - Creates illusory copies to raise evasiveness.
Reflect - Creates a wall of light that weakens physical attacks.
Shockwave - A fast and unavoidable electric attack.
Flamethrower - A powerful fire attack that may inflict a burn.
Fire Blast - A firey blast that scorches all. May cause a burn.
Facade - Boosts ATTACK when burned, paralyzed, or poisoned.
Secret Power - An attack with effects that very by location.
Rest - The user sleeps for 2 turns, restoring HP and status.
Attract - Makes the opposite gender less likely to attack.
Snatch - Steals the effects of the move the foe uses next.
Fling - Hurls out held item, power depends on held item.
Charge Beam - High chance of raising user's SP.ATT one stage.
Endure - Endures any attack for 1 turn, leaving at least 1HP.
Drain Punch - User recovers half the damage inflicted.
Recycle - Recycles a used item for one more use.
Flash - Looses a powerful blast of light that cuts accuracy.
Thunder Wave - A weak jolt of electricity that paralyzes the foe.
Stealth Rock - Causes damage when foe switches Pokémon.
Psyche Up - Copies the foe's effect(s) and gives to the user.
Captivate - Lower's opposite gender foe's AP.ATT two stages.
Sleep Talk - Uses an own move randomly while asleep.
Natural Gift - Power and type of move depends on the held berry.
Dream Eater - Takes on half the damage inflicted on a sleeping foe.
Grass Knot - Power increases if foe is heavy.
Swagger - Confuses the foe, but also sharply raises ATTACK.
Substitute - Creates a decoy using 1/4 of the user's maximum HP.
Strength - Builds up enormous power, then slams the foe.
Rock Smash - A rock-crushing attack that may lower defense.
Fire Punch - A firey punch that may burn the foe.
Ice Punch - Any icy punch that may freeze the foe.
Icy Wind - A chilling attack that lower's the foe's SPEED.
Knock Off - Knocks down the foe's held item to prevent its use.
Trick - Tricks the foe into trading held items.
Thunderpunch - An electrified punch that may paralyze the foe.
Zen Headbutt - May cause foe to flinch.
Helping Hand - Boosts the power of the recipient's moves.
Last Resort - Only useable when all other attacks have been used.
Snore - A loud attack that can only be used while asleep.
Bounce - Bounces up, then down next turn. May paralyze.
Endeavor - Gains power if the user's HP is lower than the foe's HP.
Mud-slap - Hurls mud in the foe's face to reduce its accuracy.
Rollout - An attack lasting 5 turns with rising intensity.
Signal Beam - A strange beam attack that may confuse the foe.
Present - A gift in the form of a bomb. May restore HP.
Amnesia - Forgets about something and sharply raises SP.DEF.
Belly Drum - Maximizes ATTACK while sacrificing HP.
Splash - Its just a splash...Has no effect whatsoever.
Mimic - Copies a move used by the foe durign one battle.
Wish - A wish that restores HP. It takes some time to work.
Fake Tears - Feigns crying to sharply lower the foe's SP.DEF.
Covet - Cutely begs to obtain an item held by the foe.
Charm - Charms the foe and sharply reduces its ATTACK.
Sweet Kiss - Demands a kiss with a cute look. may cause confusion.
Copycat - Copies foe's last move.
Magical Leaf - Attacks with a strange leaf that cannot be evaded.
Uproar - Causes an uproar for 2 to 5 turns and prevents sleep.
Weaknesses:
- Fighting type moves.
- It's kind of small and light, can be batted off easily.
Behavior:
Generally peaceful, calm, yet shy creatures. They're very rarely seen outside of caves and in the daytime. Cheery and happy, they like to dance. It is said that Clefairy worship the moon. Some clefairy are known to be kleptomaniacs, taking whatever they are attracted to. When encountered, Clefairys without hesitation
usually
use the Metronome attack in order to defend themselves. They don't particularly trust anyone or anything.
Appearance: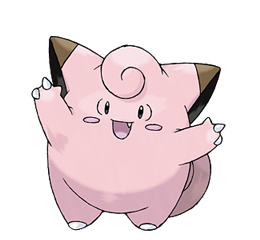 Anything Else:
Voila~